Basic Information
S14社製ダイキャストモデルです。商品の概略は以下のとおり。
This is a ready-made diecast model by S14 Co., Ltd. The specifications of this product is as follows.
Product Maker
S14 Co., Ltd.
Product Series
Aviation Fighters Series
Product Name
SKU:AVFS-1912027
021. F-16XL U.S. Air Force XL-1 Prototype 75-0749
Model Scale
1:144
Dimensions
Length:12.5cm (from the tip of pitot tube to rear end of engine nozzle)
Wingspan:7.8cm (without wingtip pylons)
Release Date
August 2021 (in Japan)
Price
7,920 yen in Japan
Notes
*Ready-made display model (painted and assembled)
*Die-cast body with some plastic parts
*All markings by tampo printing
*Landing gears can be removed for flying position (gear covers and adapter included)
*Display stand NOT included
Shape, Painting and Markings
本モデルはアメリカ空軍ETF(強化型戦術戦闘機)競争試作(1)用に開発されたF-16XL初号機のダイキャストモデルです。実機に忠実なアウトラインを持ち、シャープなパネルラインを備えています。モデルは美しく塗装され、表面のマーキング類は全て精密なタンポ印刷にて再現されています。
(1)後にETFプログラムはDRF(複合任務戦闘機)プログラムに拡張されることになります。
This is a diecast model of the F-16XL-1 developed for prototype of USAF's ETF(Enhanced Tactical Fighter) competition*1. This model has nice outline just like a real plane, and sharp panel lines. It is beatifully painted, all markings are printed in great detail on the surface.
*1: Later, ETF program was expanded into the DRF(Dual Role Fighter) program.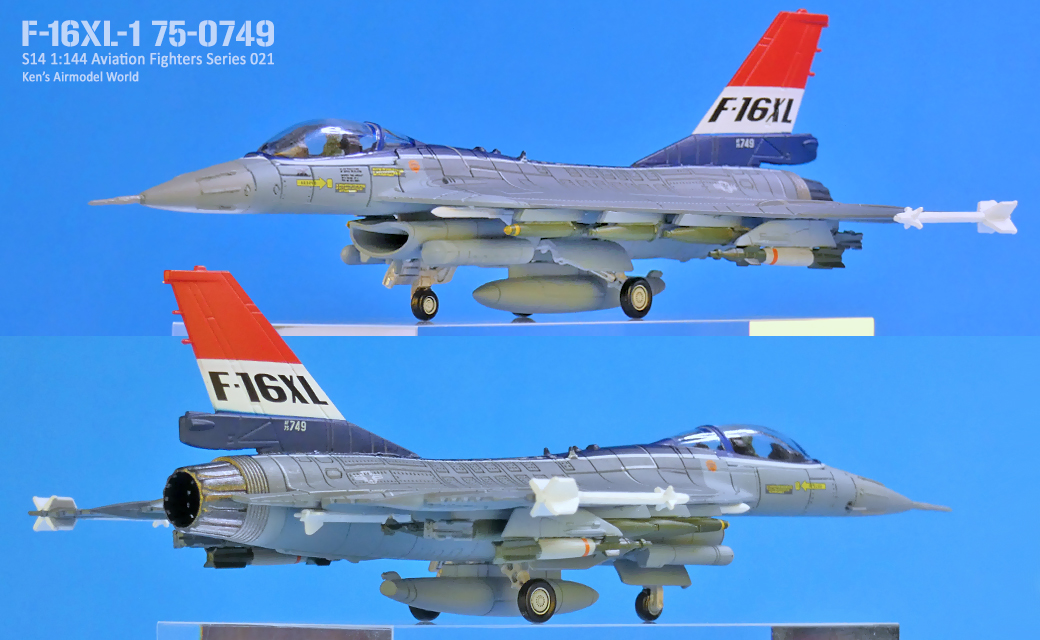 Special Mention
Many Weapons
本商品には空対空、または空対地兵装のアクセサリーが付属します。これらは胴体下部に接着されており、取り外すことはできません。
The accessories for "Air-to-Air" or "Air-to-Surface" configurations are included in this product. These are glued to the under fuselage and cannot be removed.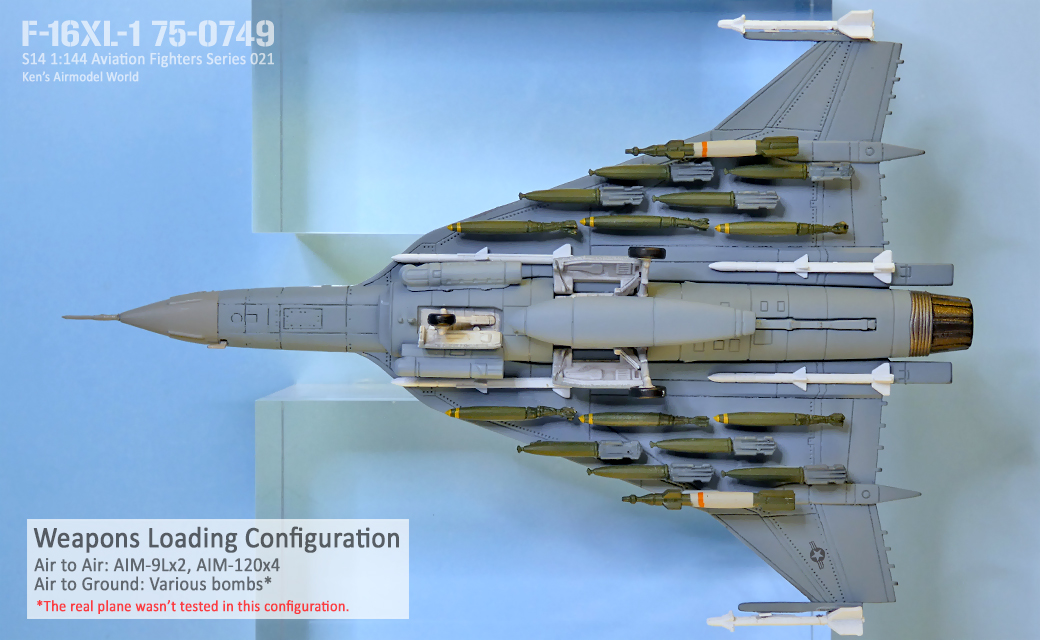 Removable Landing Gears
ランディグギアは開閉選択式で、駐機状態と専用スタンド(別売り)で飛行状態が楽しめます。-オフィシャルサイトより-
The landing gear is open/close selection type. You can enjoy the parked state and the flight status on a dedicated stand(sold separately). -from S14 official site-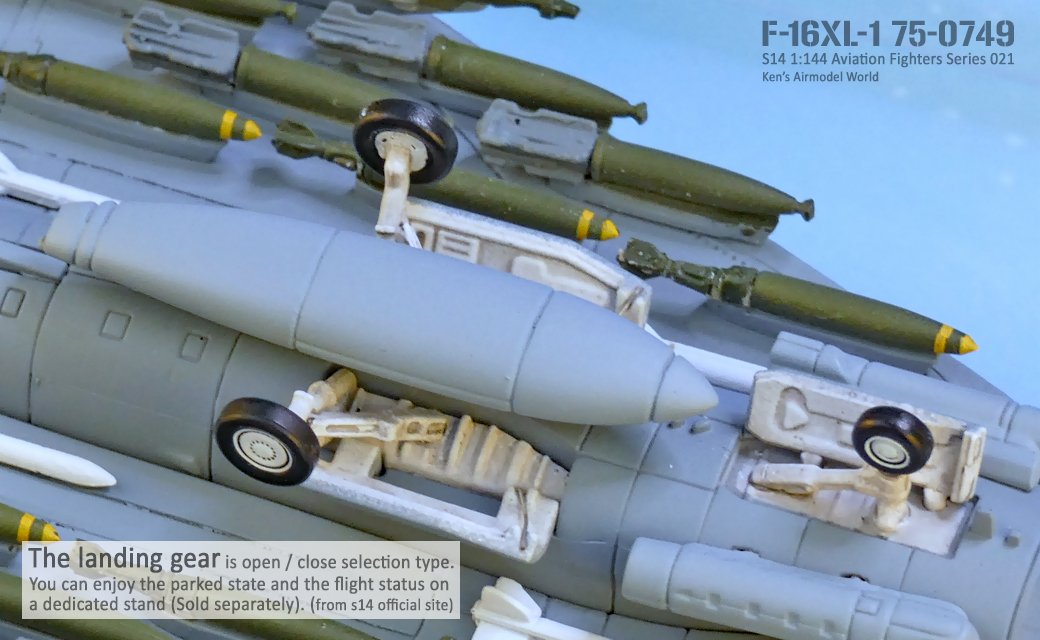 General Dynamics trademark
現ライセンサーLOCKHEED MARTIN社の意向により垂直尾翼のGENERAL DYNAMICS社商標はあらかじめ削除されています。-オフィシャルサイトより-
The GENERAL DYNAMICS trademark of the vertical stabilizer has been deleted in advance due to the intention of the current licensor LOCHEED MARTIN. -from official site-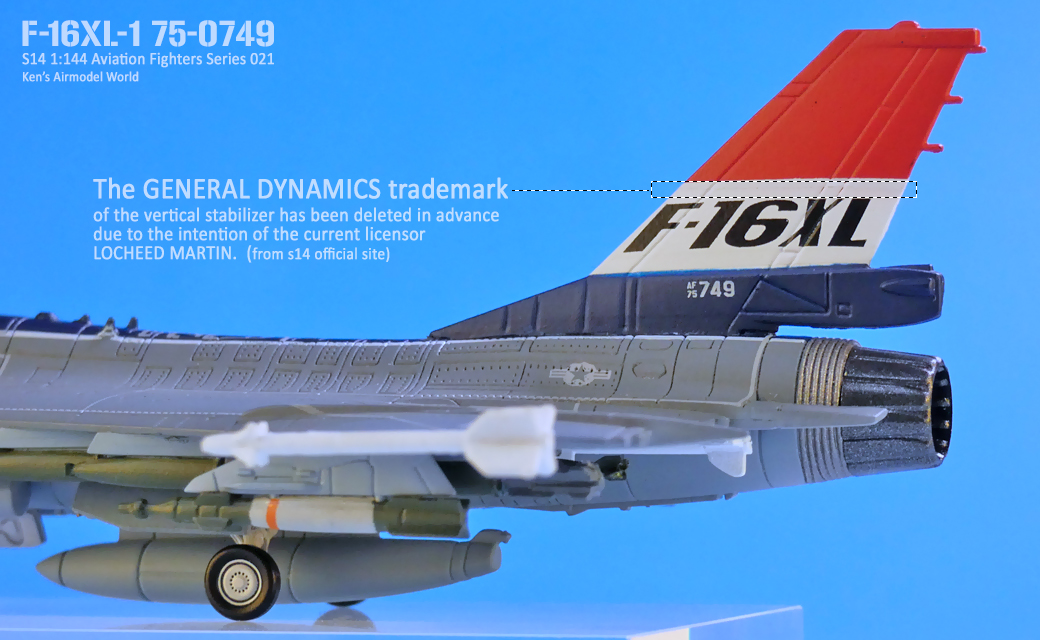 My Impression
Good and Bad Points
Good Points
*Good outline
*Accurate panel lines
*Beautiful painting
*Detailed markings by tampo printing
Bad Points
*The mounting position of AIM-9L is incorrect.
*Not actual scale
The mounting position of AIM-9L
AIM-9Lの取り付け位置が間違っています。翼端パイロンのAIM-9Lは前寄りに取り付けられていたので、レビュアーのほうで修正をしておきました(正解はミサイルとパイロンの後端が互いに面一)。
これは製造時の取り付けミスではなく、設計段階でのミスです(パイロン側にダボ、ミサイル側にダボ穴があり、設計時に取り付け位置が決定されていました)。
The mounting position of AIM-9L is incorrect. The AIM-9L of the wing tip pylon was attached closer to the front, so reviewer corrected those (the correct answer is that the missile and the rear end of the pylon are flush with each other).
This is not a mounting mistake at the time of production, but a mistake at the design stage (there is a dowel on the pylon side and a dowel hole on the missile side, and the mounting position was decided at the time of design).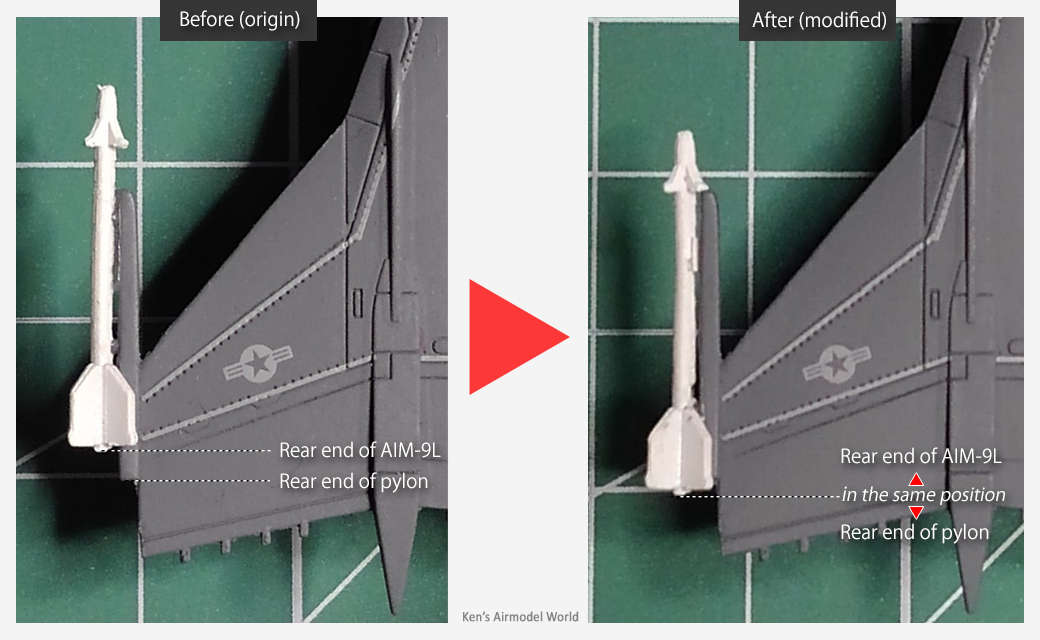 Not Actual Scale
本モデルは1:144スケールですが、実際のスケールとは異なります。全長と全幅は実際の縮尺より1cm大きくなっています。全高は実際のスケールとほぼ同じです。
The scale of this model is 1: 144, but it's not the actual scale. The length and wingspan are 1cm larger than the actual scale. The height is almost the same as the true scale.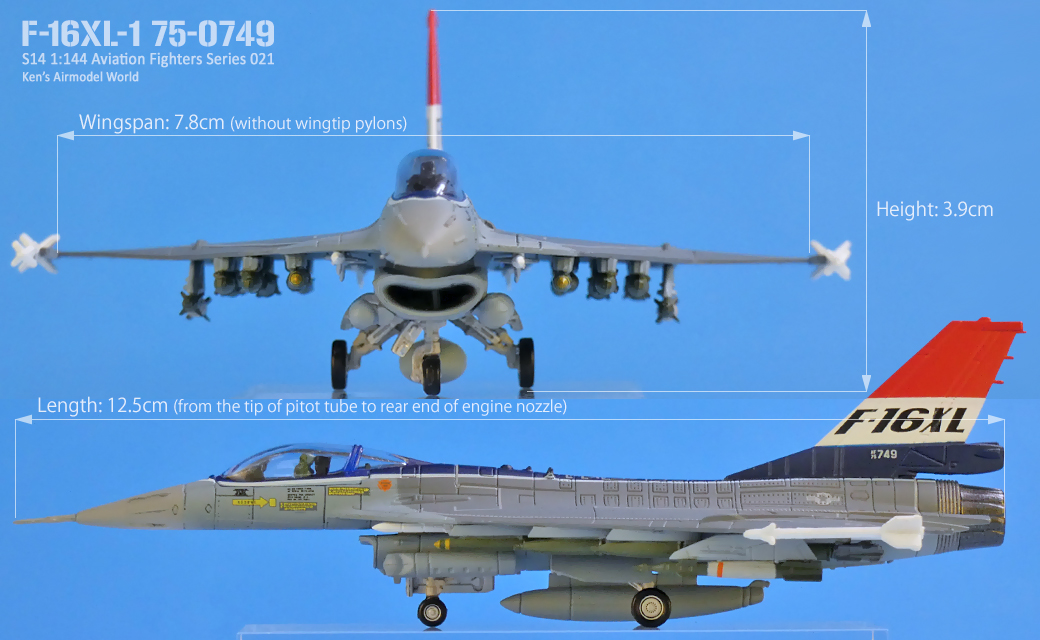 Dimension Comparison
| | | | |
| --- | --- | --- | --- |
| | Real Airplane | 1:144 Actual Scale | This Model |
| Length | 54ft 1.9in (≒16.51m) | 11.5cm | 12.5cm |
| Wingspan | 32ft 4.9in (≒9.88m) | 6.9cm | 7.8cm |
| Height | 17ft 7in (≒5.36m) | 3.7cm | 3.9cm |
Acknowledgments
F-16XLの精密モデルを入手するのが長年の夢でしたが、今、本モデルを入手し感無量といったところです。 このような商品化が難しい航空機を発売してくれたS14に感謝の意を表します。 もちろんこのモデルには良いところもあれば悪いところもありますが、試作機を模型にしてくれたことが本当に嬉しいのです。 現在、本モデルは入手が難しくプレミアム価格で取引されています。しかしながらとても素晴らしい商品ですので機会があればぜひ入手を考えてみてください。 拙サイトへのご訪問ありがとうございました。
I've always wanted to get a precision model of the F-16XL. Now, I got this model, so I'm happy. I would like to thank the S14 for releasing such an aircraft that is difficult to commercialize. Of course, there are good and bad points in this model, but I am really grateful for making the scale model of prototype airplane. This model is currently difficult to get, so it is traded at a premium price. But it's wonderful, so If you have a chance, please consider getting it. Thank you for browsing my site.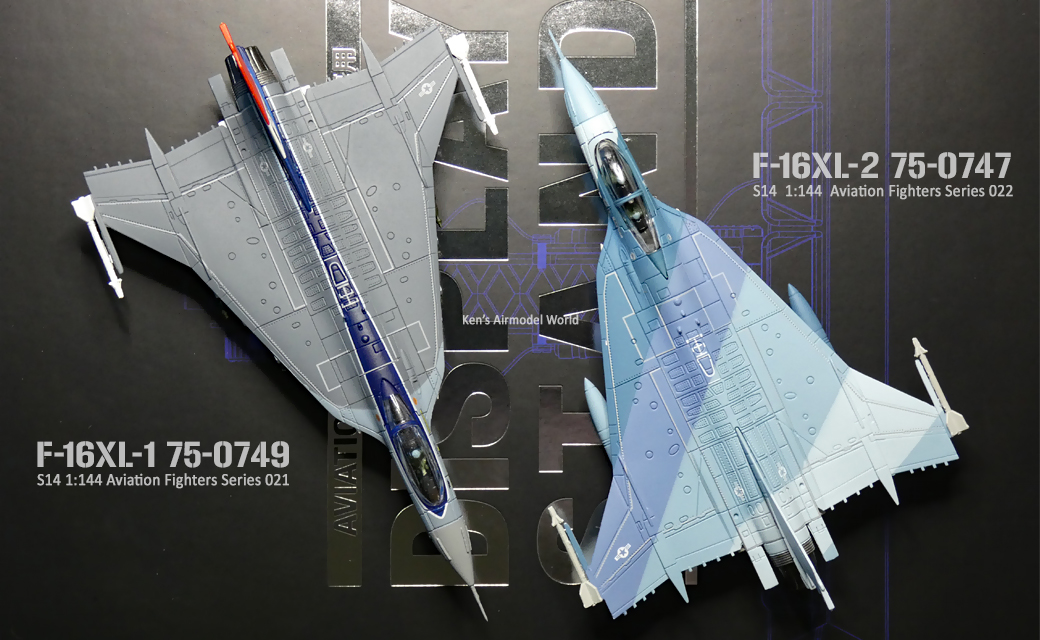 about real plane
F-16XLに関する情報源として、次のサイト、PDF、動画をお勧めします。
I recommend the following site, PDF and video as sources of information about the F-16XL.
F-16.net
F-16.netは、インターネット上におけるF-16に関する最も詳しい情報源です。以下のページはF-16XLに関する開発の経緯をまとめたものです。
F-16.net is the most detailed information source about F-16 on the internet. The following page summarizes the development process for F-16XL.
NASA
NASAは、F-16XLの開発当初から深く関わってきました。以下、開発初期からNASAに移管されてからの開発過程までを網羅したPDFファイルをダウンロード出来ます。
NASA has been deeply involved since the beginning of the development of the F-16XL. Below, you can download a PDF file that covers everything from the early stages of development to the development process after being transferred to NASA.
San Diego Air and Space Museum
サンディエゴ航空宇宙博物館からのビデオアーカイブ。音声は映写機のカラカラ音のみ。1982年に撮影されたものにしては状態がよくありませんが、動いている初号機を見ることの出来る貴重な映像です。
The video archive from the San Diego Air and Space Museum. The sound is only the clattering sound of the projector. It's not in good condition for the one shot in 1982, but it's a valuable video that shows moving F-16XL-1.
Reference
[Book/Magazine]
*航空ファン別冊 イラストレイテッド No.28 F-16ファイティング・ファルコン | 発行:文林堂 1985年10月
*航空ファン 1982年10月号 P10-15 GENERAL DYNAMICS F-16XL ROLLOUT/MAIDEN FLIGHT | 発行:文林堂
[Website]