Basic Information
Hobby Master社製ダイキャストモデル(完成品)です。商品の概略は以下のとおり。
This is a ready-made diecast model by Hobby Master Limited. The specifications of this product is as follows.
Product Maker
Hobby Master Limited.
Product Series
1:72 Air Power Series
Product Name
Item No: HA2716 (Not Limited)
Mitsubishi F-2A Misawa AB 2016 "3 Squadron 60th Anniversary"
Model Scale
1:72
Dimensions
Length:21.6cm / Width:15.5cm
Release Date
Dec. 11, 2018 in Japan
Price
11,800 yen in Japan (Tax excluded)
Notes
*Ready-made display model (painted and assembled)
*Die-cast body with some plastic parts
*All markings by tampo printing
*Landing gears can be removed for flying position (gear covers included)
*Display stand included
*Pilot figure included
*Canopy can be displayed with opened or closed
Shape, Painting and Markings
本モデルには若干の隙間がありますが、良好なアウトラインと精密さを備えています。 またデカールを使用せずにデジタルカモフラージュがタンポ印刷で表現されています。
There are some gaps between the parts, but this has good outline and nice details. And the digital camouflage is expressed in tampo printing without using decals.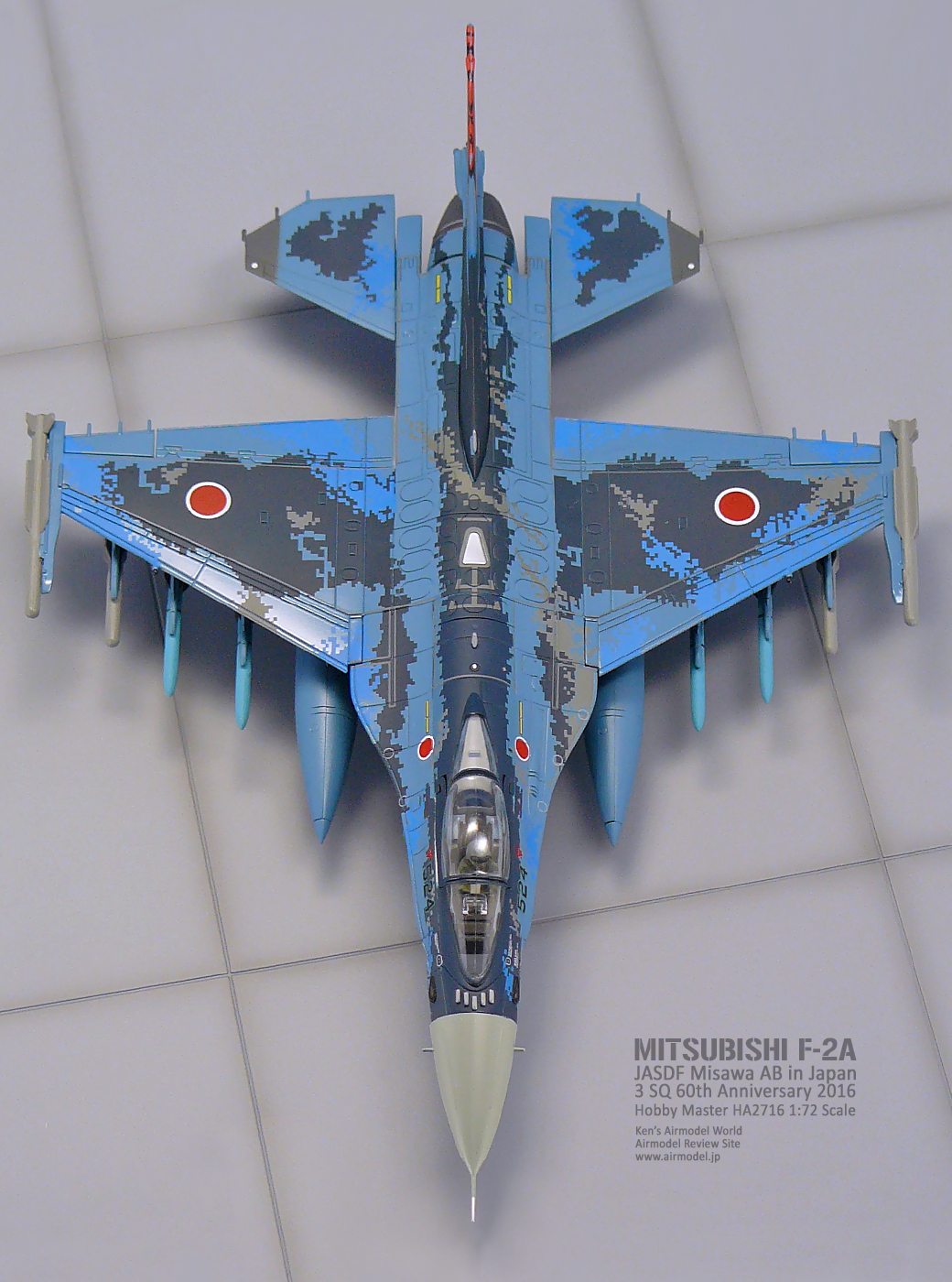 Special Mention
Weapons for Air to Air Configuration
本商品には空対空兵装のアクセサリーが付属します。
The accessories for "Air to Air Configuration" are included in this product.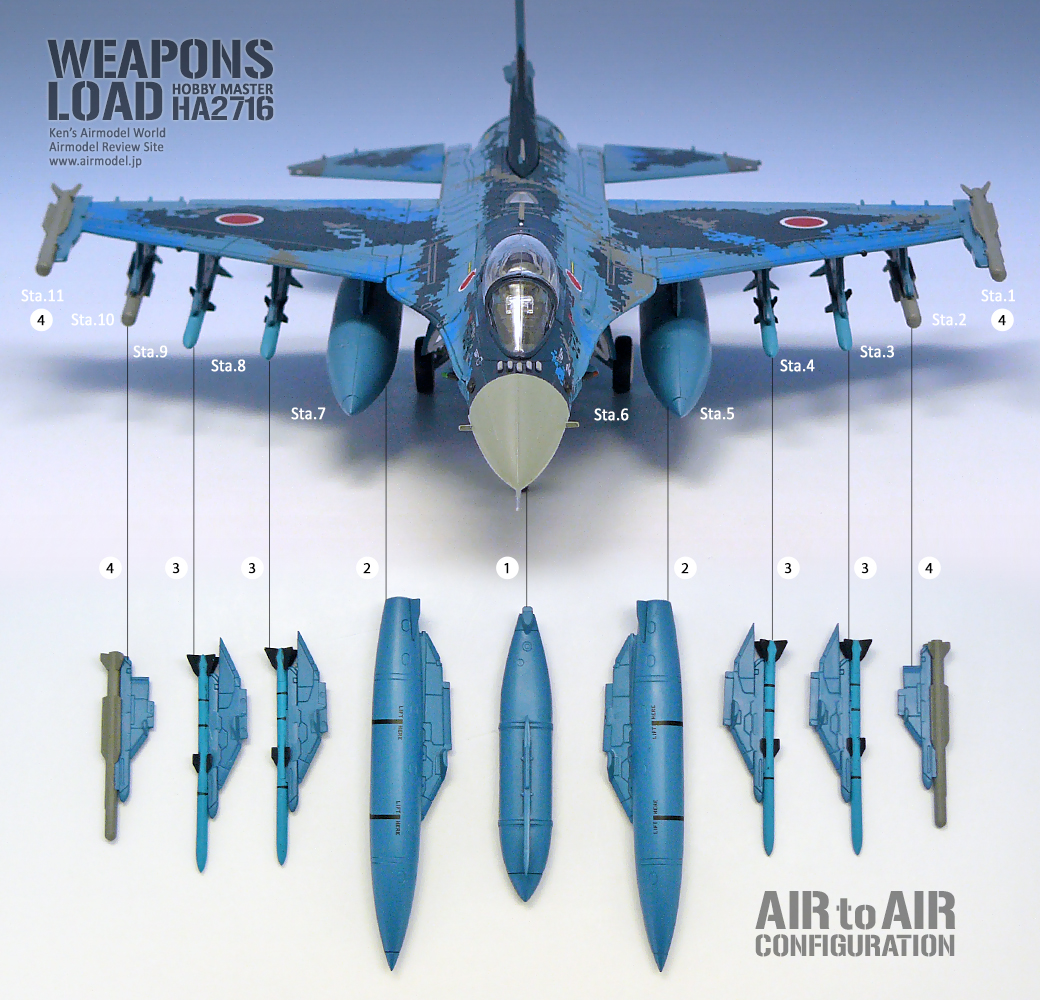 ①
300gal drop tank with pylon
②
600gal drop tank with pylon
③
Mitsubishi AAM-4 with pylon
AAM-4 (JSDF name: Type 99 air-to-air missile), active radar homing medium-range air-to-air missile
④
Mitsubishi AAM-5 with pylon
AAM-5 (JSDF name: Type 04 air-to-air missile), infrared homing short-range air-to-air missile
Using Display Stand of JC Wings
本商品は、JC Wings製1/72スケールF-16用ディスプレイスタンドで飾ることが出来ます。
※このディスプレイスタンドは本製品に含まれておりません。
You can use the JC Wings display stand for 1/72 scale F-16.
*This stand is not included in this product.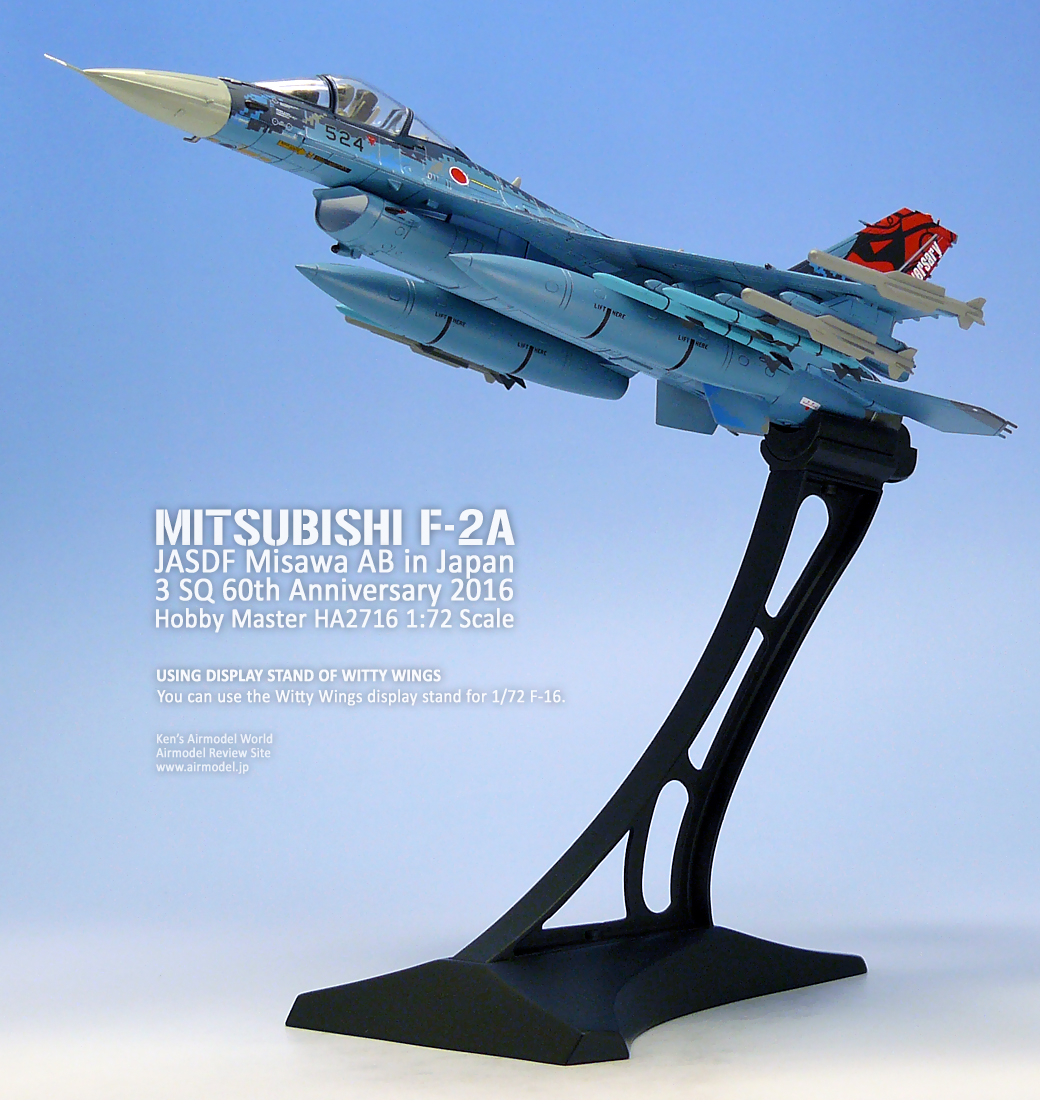 My Impression
Good and Bad Points
Good Points
*Good outline
*Accurate panel lines
*Beautiful painting
*Detailed markings by tampo printing (Especially the digital camouflage is awesome)
Bad Points
*Some gaps between the parts (around the canopy and engine nozzle)
*Main gear block is hard to fit in the fuselage
hard to fit
メインギアブロックは胴体とのフィットが悪く嵌めにくいものでした。今回のレビューでは、他モデルのギアを使用しました(ホビーマスター HA2708)。
It's hard to fit main landing gear block with the fuselage. In this review, I used the main gear of other models (Hobby Master HA2708).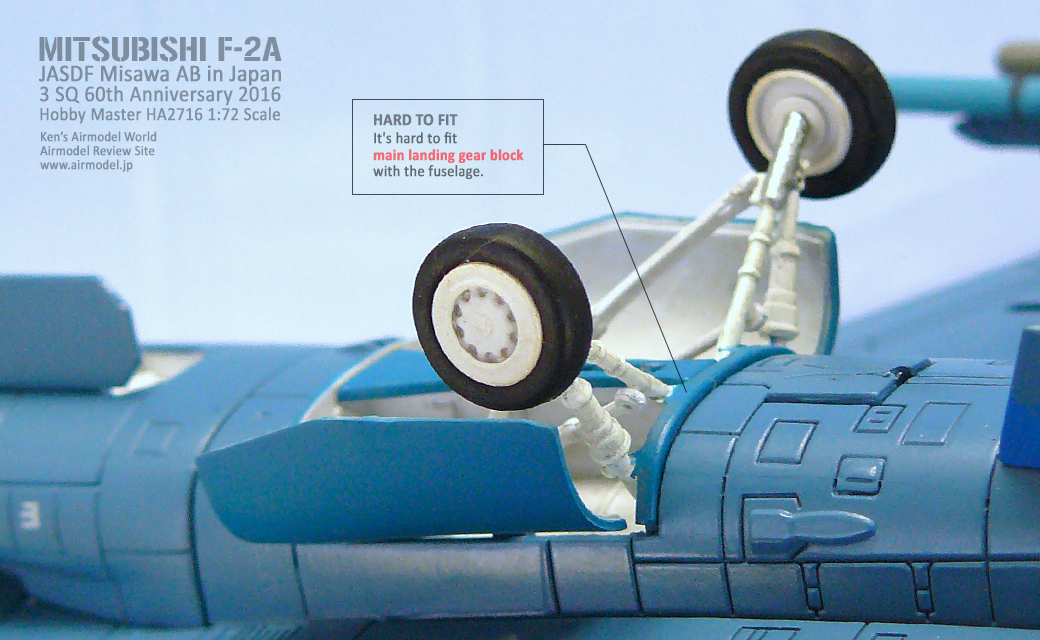 about real plane
Mitsubishi F-2
F-2支援戦闘機は、航空自衛隊(JASDF)向けに製造された単発エンジンのマルチロールファイター(多目的戦闘機)です。 1980年代半ばから後半にかけて日米共同で開発され、1990年代初頭に三菱重工業が主契約者となり、ロッキードマーティンを主な下請け企業として共同生産されました。
ロッキードマーティンF-16ファイティングファルコンの基本設計に基づき、F-2は空対空と空対地の両任務をこなしますが、日本のシーレーン防衛に最適化されています。 フライバイワイヤ飛行制御システムや統合電子戦システムなど、革新的なシステムの多くは日本で開発されました。 F-2は、アクティブ電子走査アレイ(AESA)レーダーを装備した最初の量産戦闘機でもありました。
F-2は4機のプロトタイプXF-2を含む合計98機が生産されました。 飛行試験プログラムは1996年に始まり、2000年に終了しました。 この年は量産初号機が航空自衛隊に引き渡された年です。 量産最終号機は2011年に引き渡されました。
The F-2 Support Fighter is a multi-role, single-engine fighter aircraft produced for the Japan Air Self-Defense Force (JASDF). It was jointly developed in the mid- to late 1980s and jointly produced in the early 1990s by Mitsubishi Heavy Industries (MHI, Japan's prime contractor), Lockheed Martin Aeronautics (principal U.S. subcontractor to MHI), and other Japanese and U.S. industries.
Based on the design of the Lockheed Martin F-16 Fighting Falcon, the F-2 is capable of both air-to-air and air-to-surface roles though it is optimized for the latter role, to protect Japan's sea lanes. Many of the aircraft's innovative systems, including the fly-by-wire flight control system and integrated electronic warfare system, were developed in Japan. The F-2 was also the first production fighter to be equipped with an Active Electronically Scanned Array (AESA) radar.
A total of ninety-eight F-2s were built, including four prototype XF-2 aircraft. The initial flight test program began in 1996 and ended in 2000, the same year that the first production F-2 was delivered to the JASDF. The last airframe was delivered in 2011.
* Above explanation is quoted from website "Japan's F-2 Support Fighter | Code One Magazine".
JASDF 3rd Tactical Fighter Squadron
航空自衛隊 第3飛行隊は、1956年10月1日に航空自衛隊初の実働戦闘機部隊として新編されました。 1971年12月1日には三沢基地に移動し、以降同基地をホームベースとします。 1977年9月に三沢基地第3航空団隷下となり、三菱F-1支援戦闘機の受領を開始しました。 2000年9月、F-1は三菱F-2A戦闘機への機種改変を開始。 2016年、F-2A 43-8524 号機は、歴史ある第3飛行隊60周年を記念した記念塗装機を受領しました。
The JASDF 3rd Squadron "Samurai Spirits" was formed on October 1, 1956 as their first actualfighter unit and not a training unit. The squadron made their home base at Misawa Air Base on December 1, 1971. In September 1977 they belonged to the 3rd Air Wing at Misawa and began receiving the Mitsubishi F-1 aircraft. In September 2000 they began to replace the F-1 with the Mitsubishi F-2A Fighter. In 2016 F-2A 43-8524 received a paint scheme honoring the 60th Anniversary of the 3rd Squadron, the longest serving JASDF squadron.
* Above explanation is quoted from website "Hobby Master Collector".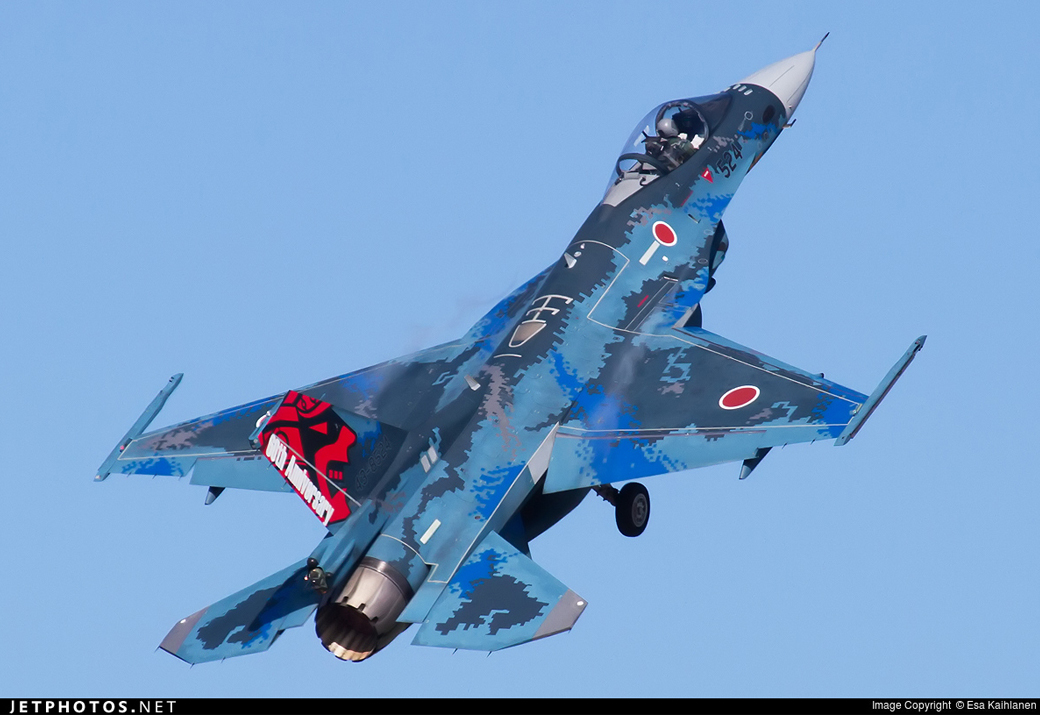 43-8524 | Mitsubishi F-2A | Japan – Air Self Defence Force (JASDF) © Esa Kaihlanen
Reference
[Books & Magazine]
*モデルアート プロフィール 航空自衛隊 F-2 戦闘機 | 有限会社モデルアート社 2010年5月15日発行
*自衛隊の名機シリーズ 航空自衛隊 F-2 | イカロス出版 2009年5月20日発行
[Website]